We had a fabulous 2nd Annual  NEW THOUGHT DAY Sunday, March 2, 2014!
Rev. Dr. Abigail Albert enjoyed being with the lovely Unity of Carlsbad Community in Carlsbad, CA . It was a wonderful celebration and many people  said they had no idea New Thought had so  many centers, organizations and publications all over the world.   For many it was the first time they realized they were part of a greater global community.  Everyone, especially the newcomers that day,  enjoyed hearing the spiritual principles, mission, vision and core values we all share.  Thank you Rev. Ray Wiggins for your kind invitation to speak with your congregation on New Thought Day.
***
1st Annual  NEW THOUGHT DAY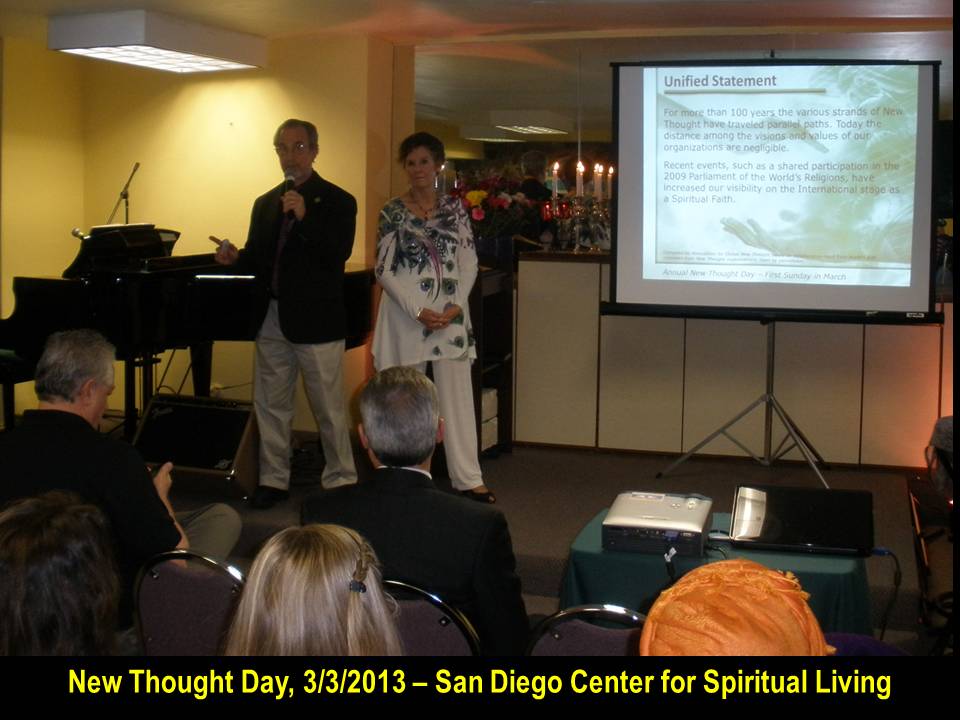 March 3, 2013
New Thought religious centers around the world celebrate their legacy on the first Sunday of March each year with prayer sessions, guest speakers, parties, pot-lucks and overall singing and dancing.   The New Thought faith embraces positive thinking, listening to one's inner voice, affirmative prayer, meditation, and other ways of realizing the presence of God within.  The branches celebrating together include: The Association for Global New Thought, Unity Worldwide Ministries, Centers for Spiritual Living, Affiliated New Thought Network, Agape International Spiritual Center, Hillside International Truth Center, Center of Truth, Divine Science, and Universal Foundation for Spiritual Living.  New Thought participated at the 2009 Parliament of World Religions in Melbourne, Australia under the banner of 'Global New Thought' developed by The Association for Global New Thought. For those NT centers who wish to view and/or participate using the approved PowerPoint, you can download the pdf. of that attachment here:  Click Here  Be sure to save this to your computer before closing. For those NT centers who wish to view or use the approved press article as the basis for a personalized article in their local papers: you can download the Microsoft Word document here:  Click Here  Be sure to save this to your computer before closing.
I have added another resource for you to distribute to potential New Thought adherents and for use within any orientation class you might have at your center.  I have combined all the general information from the New Thought Day PowerPoint with the New Thought portions of my book The Interfaith Manual.  I also added a last chapter on how I used New Thought principles to go through and recover from my 2003 stroke.  The final product is a new E-book entitled,  FROM RELIGIOUS TO SPIRITUAL: The New Thought Experience  and can be downloaded at http://www.amazon.com/dp/B00O2K47XU
New Thought is Now a Recognized World Faith; 
Congratulations New Thought!!!
To find a New Thought center near you, go to the following links and enter your city or zip code: Centers for Spiritual Living –   http://csl.org/index.php/centers-and-services/2012-04-12-15-09-46.html Unity Worldwide Ministries –   http://www.unityworldwideministries.org/find-church Affiliated New Thought Network –   http://www.newthought.org/antn-members.html?ab0b634efc9bc0723f97be52536da199=9d0b869a209cbe8b6cf0b467a1d35018 Agape Int'l. Spiritual Center –   http://www.agapelive.com/ Hillside Int'l. Truth Center –   http://www.hillsidechapel.org/ One Spirit Ministries –   http://1-spirit.net/Default.htm Universal Found. for Better Living –   http://ufbl.org/ Center of Truth –   http://thehomeoftruth.org/ Divine Science Federation Int'l. – http://www.divinesciencefederation.org/ To learn about the many programs New Thought Centers participate in, go to: Association for Global New Thought –  http://www.agnt.org/