Buy ONE BOOK, Any Book, and you will receive a
TALK ZONE Book FREE!
THE INTERFAITH MANUAL
Learn what 12 faiths believe about life



40 different areas of life covered by topic
Begin Teaching Interfaith to any type of group!
Manual – 380 Spiral Bound Pages
Workbook – 220- Spiral Bound Pages with 40 Lessons, Faith Prayers, a 12-Step Peace Program and much much more! Perfect for Classes, Workshops & Discussions
Discounts for Multiple Copies for Churches, Schools and Universities.
 INTERFAITH  RELEASES
The Interfaith Manual –  Compares 12 World Faiths with 40 topics for easy understanding and instant comprehension.
$24.95

The Interfaith Workbook  –  Anyone can teach Interfaith anywhere – 40 Lessons taken from The Interfaith Manual with Prayers, Faith Symbol Identification and a 12-Step to Peace program which can be used in small and large groups.
$24.95

20-Interfaith PowerPoint Lessons on 2-CDs  – Use as visuals in Interfaith Classes $99.95

Interfaith Manual & Workbook Combo  –  Save 10%                                                $44.95

Interfaith Set: Manual, Workbook & 2-CD set  –  Save 15%                                   $127.37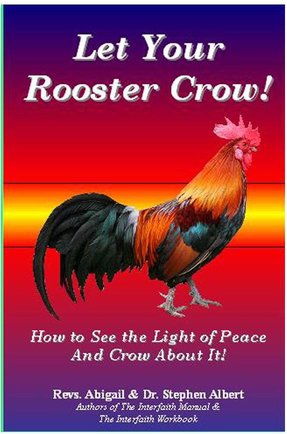 Let Your Rooster Crow  –  Learn the techniques to develop the PASSION you have about Interfaith or any other subject, and make a positive difference in the world.
$14.95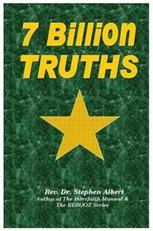 7 Billion Truths – Explore faith-base, scientific, social, and everyday life truths, from the beginning of time, and how they shape our lives today.  Learn what the world's faith's Avatars taught as their basic truths.  This book will help you reconstruct a more positive, personal truth bubble and help you clarify, "What do I really Believe?" and "What is truth for me?"
$14.95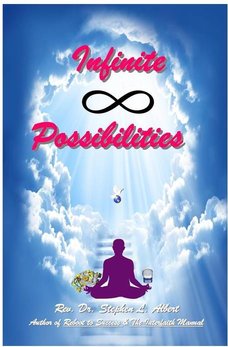 Infinite Possibilities (Fiction)  –  Rev. Dr. Stephen Albert, draws you into the lives of a husband and wife team as they develop their psychic ability to help bring clarity about reincarnation, hypnosis, past lifetimes and more.  Experience with them the people and Angels they meet in the Akashic Records and watch them bring people together to produce a spiritual community of Peace and Love which affects the entire country.  Laugh, cry, and be amazed at what you can learn about the Soul, God, and each person's purpose on this planet.
$14.95
  The larger sequel to the book is only available as an E-Book and is called, "Infinite Possibilities & Beyond."  It can be accessed at: https://www.amazon.com/s/ref=nb_sb_noss?url=search-alias%3Ddigital-text&field-keywords=Infinite+Possibilities+%26+Beyond%2C+Stephen+Albert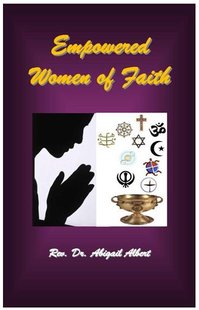 Empowered Women of Faith  –  Rev. Dr. Abigail Albert offers you the personal stories of ten women from different faiths in a heart-warming, revealing and many times frustrating remembrance of how they fought prejudice as they answered the calling in their hearts.  Learn how Inspired Women Faith Leaders are: Following their Heart, Breaking the Mold, & paving the Way for more Empowered Women of Faith.
$24.95 

                              NEW THOUGHT RELEASES
Want to have all your questions about the New Thought Faith answered?  I have combined all the general information from the New Thought Day PowerPoint with the New Thought portions of my book The Interfaith Manual.  I also added a last chapter on how I used New Thought principles to go through and recover from my 2003 stroke.  The final product is a new E-book entitled,  FROM RELIGIOUS TO SPIRITUAL: The New Thought Experience and can be downloaded at: http://www.amazon.com/dp/B00O2K47XU
REBOOT RELEASES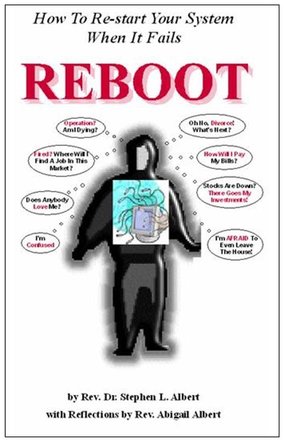 REBOOT –  Learn how to restart your system when it fails whether due to a physical, relationship, financial or work-related challenge.  Learn how to start over and make life better than before.  Use the 6-Step technique for all major changes in life.    $14.95
                        Also available as an E-Book at: https://www.amazon.com/REBOOT-Re-Start-Your-System-Fails-ebook/dp/B00L1RLKDC/ref=sr_1_1?s=digital-text&ie=UTF8&qid=1475530486&sr=1-1&keywords=Reboot%2C+Stephen+Albert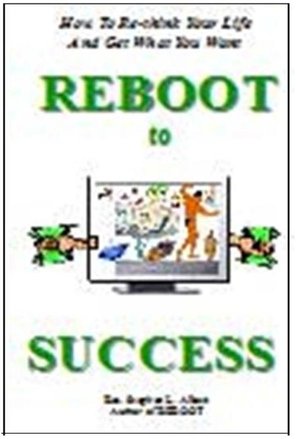 REBOOT to SUCCESS  –  One of the most powerful books available to help you gain the Success you desire.  Learn to use the 12- Chakras & Colors, 12 Astrological symbols, 12- Disciples, 12- Acronyms and 12 Powers to bring you into alignment and your true purpose.  Great stories for/from the pulpit!
$14.95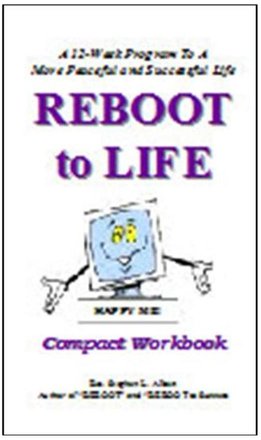 REBOOT to LIFE  –  Use this 12-Week workbook to take control of your everyday life.  Learn how to catch yourself when life throws the unexpected challenge at you.
$14.95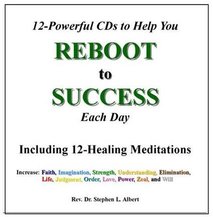 REBOOT to SUCCESS CDs –  Use this 12-CD set everyday for POWERFUL, 25min. meditations and an inspiring audio process of becoming Successful.                     $89.95



REBOOT to SUCCESS Package – Includes REBOOT to SUCCESS, REBOOT to LIFE & REBOOT to SUCCESS 12-CD Set  – VERY Powerful!  Save 15%
$101.87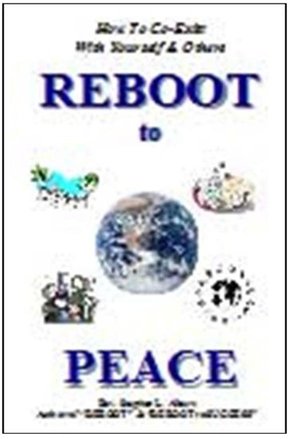 REBOOT to Peace  –  Learn how to create and maintain peace in your personal, family, community and work life, and take control of all aspects of your happiness.
$14.95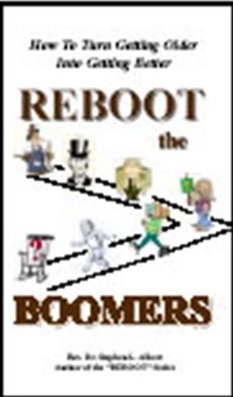 REBOOT the BOOMERS  –  Experience the major social, environmental and technological changes from 1906 to 2006 in this Pictorial History of the major events and people who affected the BOOMERS in the United States of America.
$14.95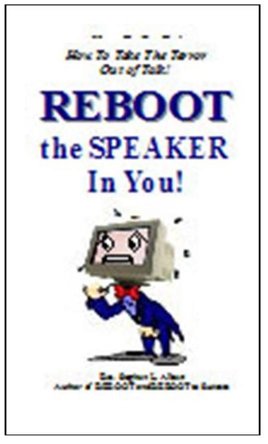 REBOOT the SPEAKER in YOU  –  Learn how to take the TERROR out of Talk and get rid of your fear of public speaking.  Helped thousands of people since 1994.
$9.95
  is also available as an E-Book at: https://www.amazon.com/REBOOT-Speaker-You-Take-Terror-ebook/dp/B00L5OUEB0/ref=sr_1_1?s=digital-text&ie=UTF8&qid=1475530676&sr=1-1&keywords=Reboot+The+Speaker%2C+Stephen+Albert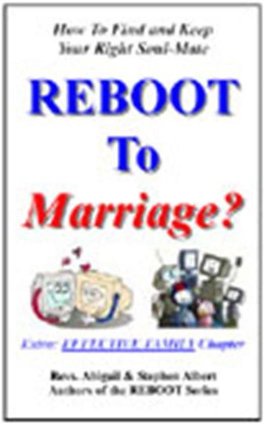 REBOOT to MARRIAGE?  –  Learn how to make the right choice in a marriage partner, the first time, or the next
$14.95


 TALK ZONE RELEASES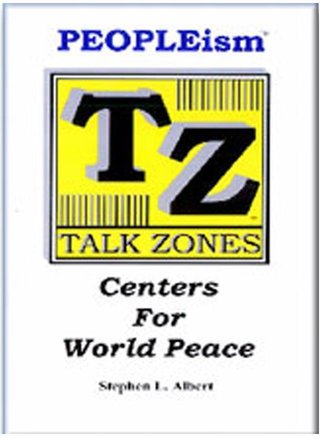 TALK ZONES  –  Learn the 9-Part Plan to bring yourself, and the physical environment around you, the inner and outer peace you seek.
$14.95


TALK ZONES in the Classroom  –  Learn how to teach children how to "talk-it-out" rather than fight it out.  Comes with a TZ sign for home or the classroom.
$9.95