UN World Interfaith Harmony Week
World Interfaith Harmony Week is an annual event to be observed during the first week of February starting in 2011.
World Interfaith Harmony Week was proclaimed by the General Assembly in resolution A/RES/65/5 adopted on 20 October 2010.
In the resolution, the General Assembly, points out that mutual understanding and interreligious dialogue constitute important dimensions of a culture of peace and establishes
World Interfaith Harmony Week as a way to promote harmony between all people regardless of their faith. Recognizing the imperative need for dialogue among different faiths and religions to enhance mutual understanding, harmony and cooperation among people, the General Assembly encourages all States to support during that week the spread of the message of interfaith harmony and goodwill in the world's churches, mosques, synagogues, temples and other places of worship, on a voluntary basis and according to their own religious traditions or convictions
Poway Interfaith Team's Annual
HARMONY BREAKFAST 2018
Deepening Relationships Through Listening
Wednesday, February 7th
7:15 am Sign in Meet and Greet
7:30 – Prayer Blessing
Welcome – Rev. Dr. Steve Albert
Discussion Leader: Rev. Michelle Ingalls
Sharing, Listening, Conversing
Everyone pays their own way.
Must RSVP Abigail Albert to receive an INVITATION
No Walk Ins
8580-487-8885 revabigail.afc@outlook.com
Location:
Mainstream Cafe
13385 Poway Rd.
Poway, CA 92064
***
.
The Poway Interfaith Team Annual
HARMONY BREAKFAST 2017
for Clergy, Faith Leaders, Government Leaders, Educator, Students,
Peace and Safety Officers and Business Leaders.
Wednesday, February 1st
"Keeping a Diverse Community Safe"
The guest speaker will be

Lt Darrell Strohl
from the Poway/San Diego Sheriffs Office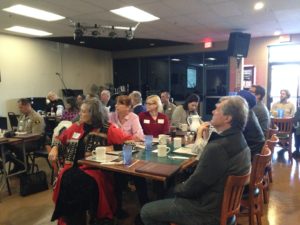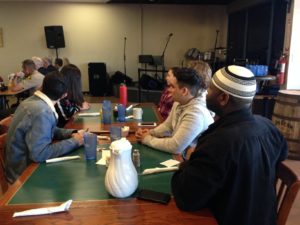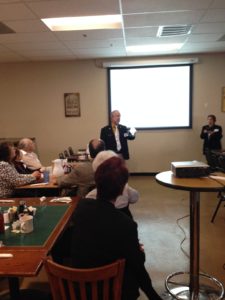 ***.
STAND UP and SPEAK OUT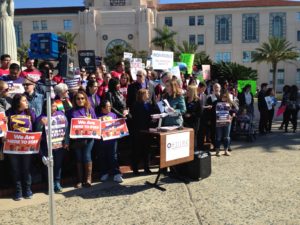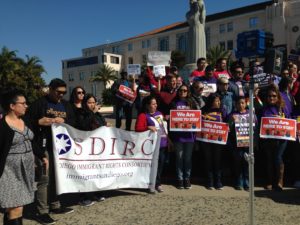 On Thursday, January 26th there was a Press Conference outside the San Diego County Administration Center on Harbor Blvd.
The conference addressed concerns related to President Trump's anticipated Executive Order limiting Muslim entry into the U.S.  A draft of the Order is online, and the United Religions Initiative (URI) indicates the Order will suspend the refugee program, specifically targeting people from Syria, the broader Middle East and Africa.
The local press conference was organized by Alliance San Diego, and convenor of the San Diego Immigrant Rights Consortium. 
Many clergy from all faith traditions, mayors, council members, CAIR, Alliance, ADL, Worker Justice and many other organizations stood together in solidarity.
Abigail and Steve attended. She took two photos  just before the crowd tripled in number.  There was an estimate of 200 people attending.
***
for All Faiths, Creed, Colors, Races, Gender, All People, and Animals, Everywhere.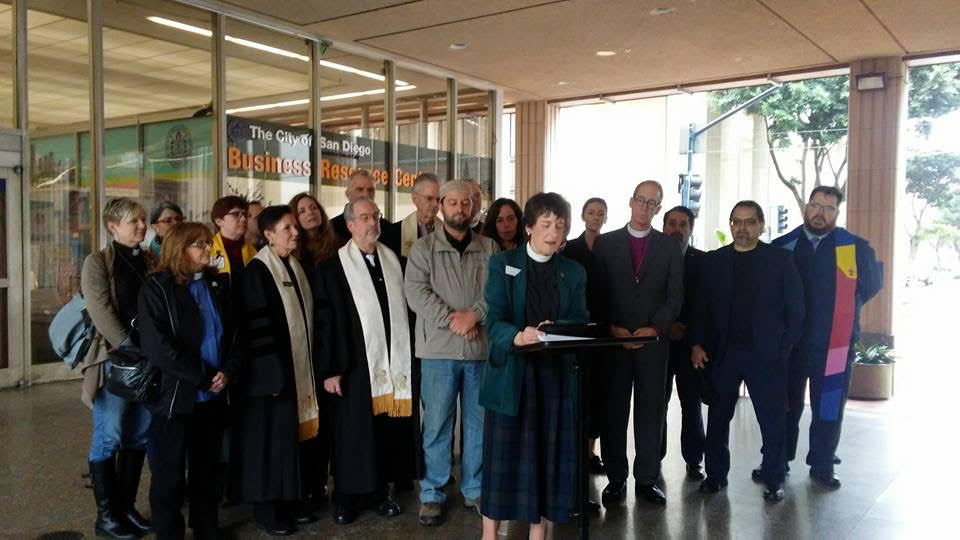 Letter to San Diego Mayor Faulconer
Dear Mayor Faulconer and Members of the Council:
"We, the undersigned leaders of San Diego-area religious communities, write this letter to you, leaders of city government, as an expression of  ur concern and commitment.
We have been deeply troubled by the often-hateful rhetoric of the recent presidential campaign. Threats of mass deportation, derogatory references to women, false generalizations regarding Muslims, disparaging remarks about persons of Mexican heritage, and challenges to the acceptance of persons who are LGBT have left millions of neighbors fearful for their future in this country. At the same time, we recognize that there are many persons on all ends of the political spectrum who feel left out in our fast-changing society.
As people of religious faith, we affirm that every person deserves to be treated with the dignity that comes from being created by God. Because our traditions teach us to welcome the stranger, we declare our support for refugees and immigrants. Because our traditions emphasize compassion, we declare our solidarity with groups that feel under attack, including Muslims. Together we affirm that diversity of race, religion, and culture is a strength of this city and this nation. Together we affirm that the measure of any society is how it treats its most vulnerable members.
We who sign this letter-Catholic, Mainline Protestant, and Evangelical Christians, New Thought, Muslims, Jews, and Unitarian Universalists-are incredibly diverse. We do not always agree on answers to the complex issues facing our society. And we are, therefore, acutely aware of the need for civil, respectful dialogue among those who disagree politically. This, too, is a key religious value.
We cannot, however, be silent when vulnerable neighbors feel threatened, whether by individual acts or governmental policies. The values we hold as people of religious faith will compel us to stand shoulder to shoulder with them. This is a crucial role for religious communities, one you need us to fulfill: to be a voice for those whose voice often goes unheard.
Our purpose in writing is to make public our concern and commitment, as well as our hope that you, our elected officials, share the values expressed above and will act accordingly.
Sincerely,"
(96 Names of Religious Leaders )
***
Praying Together at the 2016 Interfaith Thanksgiving Service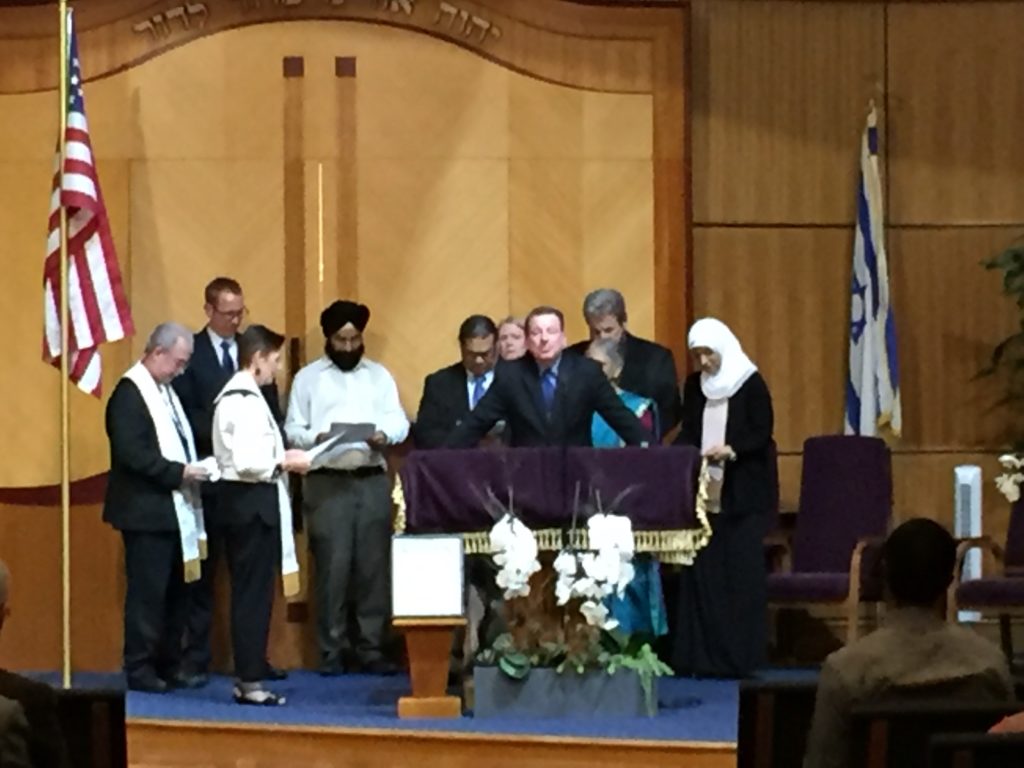 ***
Building Bonds by Uplifting All People through Social Justice.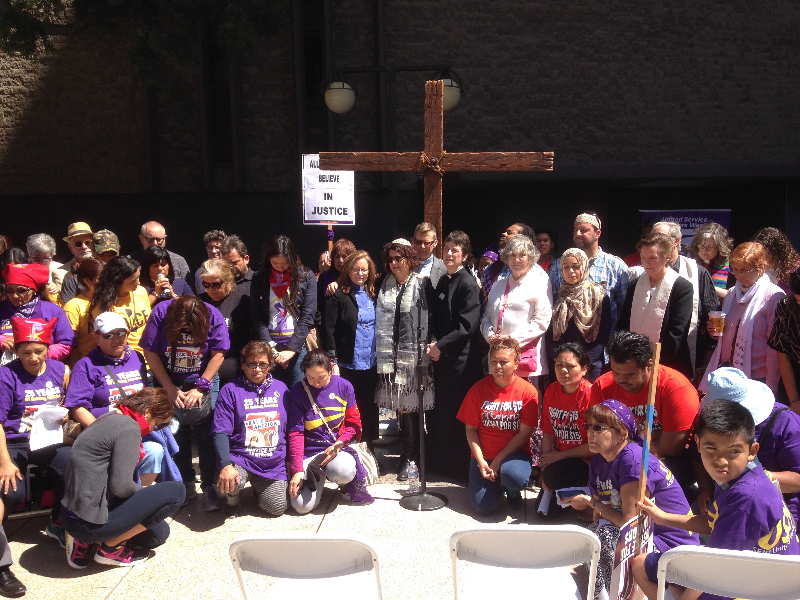 Rev. Dr. Steve and Rev. Dr. Abigail and many people of all faith traditions came to hear the Women Janitors of San Diego share their stories. We support an pay raise and more safe work conditions!
***
Building Friendship and Understanding Through Education and Hospitality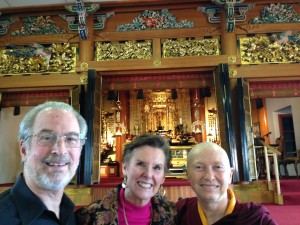 Dialogue & Dessert at the Buddhist Temple of San Diego on Market St.
Venerable Karma Lekshe Tsomo spoke  on Buddhism in this  beautiful sanctuary. We always enjoy hearing her speak. She is a beautiful emissary for inclusiveness.
Lekshe is also a USD professor teaching Buddhism and World Religions.
***
SPRING SYMPOSIUMS –
Building bonds of friendship  as we learn about each other through panels, lectures, dialogue and table activities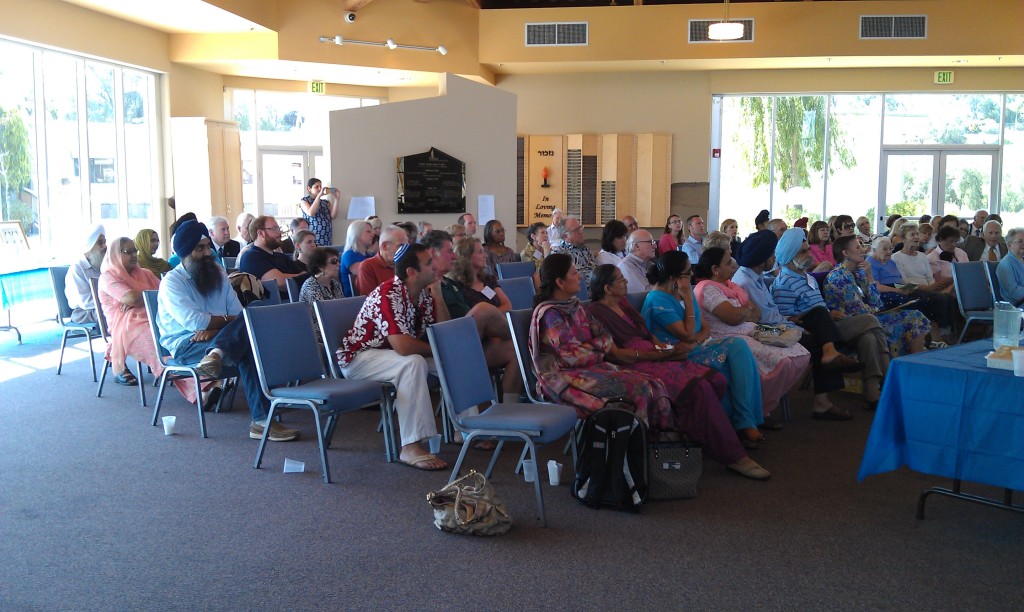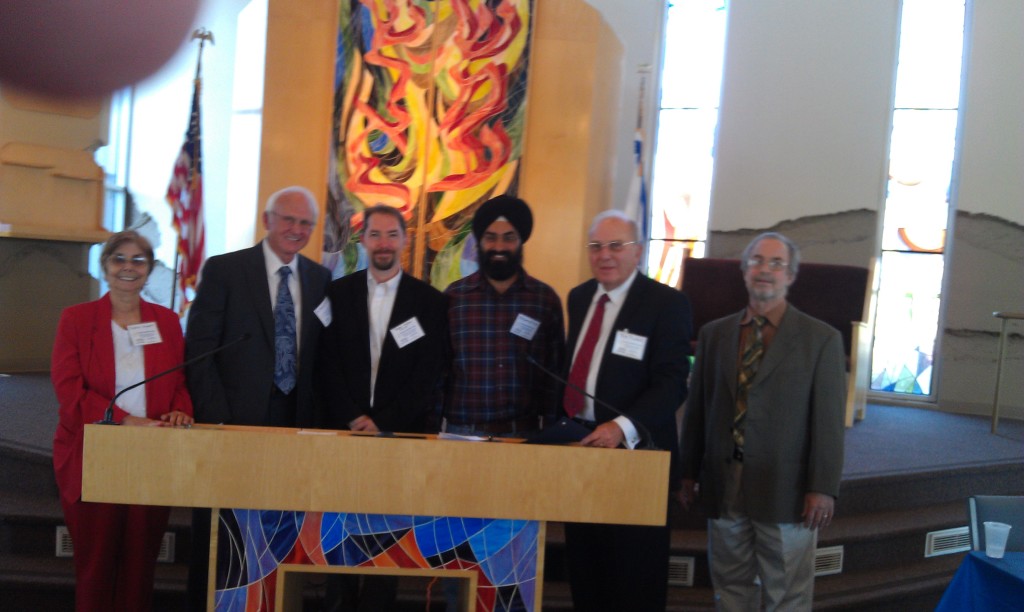 Panelists: Sydelle Enyeart, Unification; Mormon; Rabbi Nadav Caine, Judaism; Gurinder Singh, Sikh; Bob Pruchnik, Roman Catholic; Rev. Dt. Steve Albert,              New Thought.
***
Building Relationships Through Collaboration and Harmony
The 1st week in February was dedicated as "World Interfaith Harmony Week"
by the United Nations.
The Poway Interfaith Team (POINT) just held it's 6th annual Harmony Breakfast.  Rev.Dr. Steve Albert did a presentation on POINT's history and events. Our  special guest speaker was Imam Taha Hassane from the Islamic Center of San Diego. We were happy to have 30 faith leaders, government, education and business leaders in attendance.
Our table discussion was:
"What collaborative events can we, as faith and community leaders, create to build bonds of friendship and understanding?"
Here are a few photos.
Rev. Dr. Abigail, Rev. Dr. Stephen Albert and Imam Taha Hassane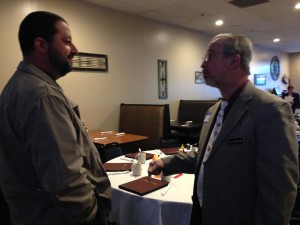 Imam Taha Hassane and Rev. Dr. Steve Albert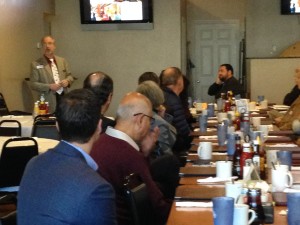 Dr. Steve giving a presentation on the history of POINT and its special events.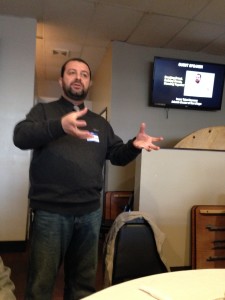 Imam Taha Hassane's presentation on the Theme:
Breaking Bread, Building Bonds, Standing Together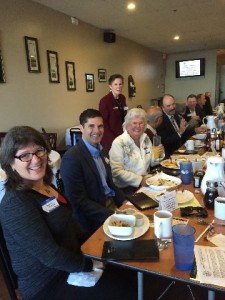 ***
POWAY INTERFAITH TEAM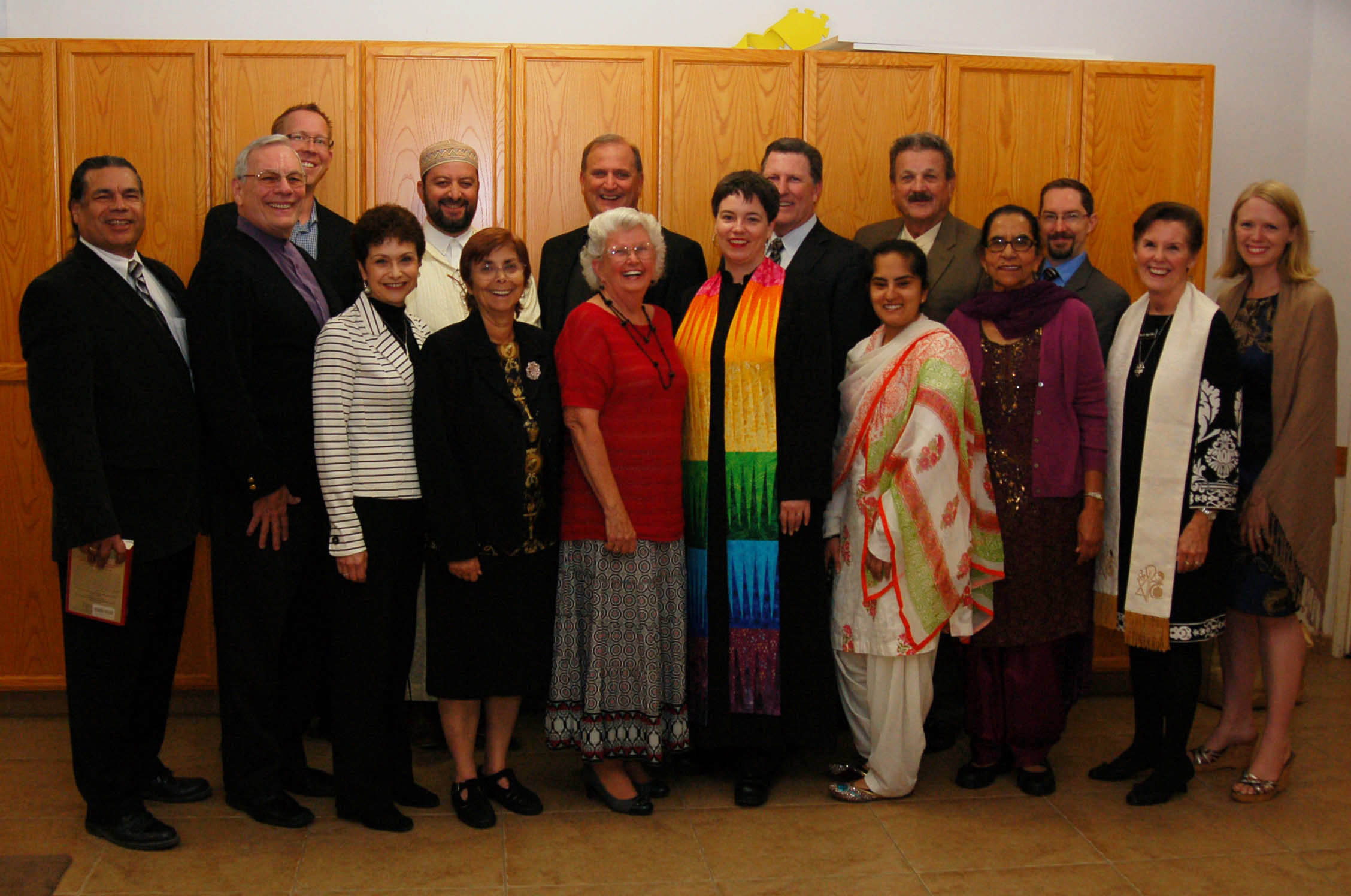 Building Interfaith Relations through a Shared Thanksgiving Service and Standing Together in the midst of turmoil and crisis
The Poway Interfaith Team (POINT) stands together with the Muslim Community and calls all people to bring an end to hate speech and actions against those who      practice Islam.
POINT emphasizes the importance of joining other voices in a stand against acts of violence and acts of racial, religious, and cultural discrimination.  We condemn acts of violence by radical groups who do not have a faith even though they claim they do.
The focus of The Poway Interfaith Team is to promote community awareness, and understanding of different faith traditions.  Diversity and acceptance of our many faiths and cultures are the fabric of our nation's tradition.  There is strength through education and by standing in solidarity with others to promote understanding, peace and justice in this world.   Educating ourselves about the true teachings of Islam will bring the understanding needed to separate what radicals believe and what true Muslims believe.
Saying terrorists practice the teachings of Islam is like saying the Klu Klux Klan practice the teachings of Christiantiy.   Both are false and absurd.
Religious discrimination comes from misinterpreting holy writings; that only serves to harm all of humanity.
The Poway Interfaith Team is deeply concerned by these acts. We believe diverse faith traditions in our communities add to the richness of life. When we meet and learn more about those who have faith traditions other than our own, we find many more similarities rather than differences.
POINT stands with many others who believe God is Love, Compassion, and Order. God wants us to live in harmony with each other and, "to love one another as He has loved us." (John 13:34).   The Koran 25:63 says, "The servants of the Compassionate are they who walk upon the earth humbly, and when the ignorant address them they answer, 'Peace!"
The Poway Interfaith Team calls on persons of all faiths to pray for civility and respect. We urge every citizen to discuss these unacceptable terrorist acts with your family and friends and even your neighbors to bring about greater harmony in our communities.
Peace, Blessings and Greater Understanding,
Abigail
Rev. Dr. Abigail Albert
Executive Director, Poway Interfaith Team