*********************************************************************
LOCAL INTERFAITH EVENTS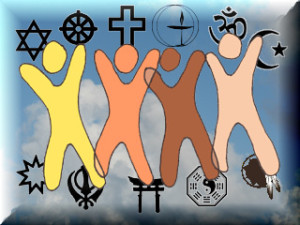 FEBRUARY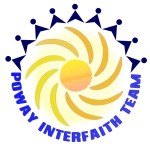 Poway Interfaith Team
Meeting
Thursday, February 8
6:30pm
Ner Tamid Synagogue
12348 Casa Avenida
Poway, CA 92064
***
San Dieguito Interfaith Ministerial Association SDIMA

Monthly Dialogue with
Guest Speaker Dr. Justin de Leon
 Wednesday, February 7
12:00 noon  -1pm

Lunch served – donations accepted
"Dr Justin de Leon is a professor with the Ethnic Studies department at UC San Diego, he specialized in Critical Theory and Feminist Theory with a focus on Native American experiences. At UCSD, he teaches courses on cultural worldviews of Indigenous America and global Indigenous thought. His research looks at how Native self-affirmative cultural practices of spirituality and tradition act as a way to achieve stable personhood. De Leon works specifically with the Lakota Sioux of North and South Dakota. Justin is a Rotary World Peace Fellow and his most recent film collaboration, More than A Word, is about the negative use of mascots in American sports."
Here is a you tube link: 
 Recreating the American dream | Justin de Leon | TEDxDayton

Poway Interfaith Team 
Meeting
Thursday, February 8th
6:30pm
Visitors Welcomed
Ner Tamid Synagogue
Up the hill off of Pomerado Road
University of San Diego
Revolution of the Heart:
The Counter- Cultural Spirituality of Henri Nouwen
Friday, February 9 and Saturday, February 10
Cost $150
Cost for Students $24
Keynote Speakers:
Sue Mosteller, C. S. J. , John Dear, Robert Ellsberg, Shane Claiborne,
Gabrielle Earnshaw & Joe Abbey-Colborne
The call to freedom and peace resounds as a deep need in our divided culture and violent times. The legacy of Henri J.M. Nouwen, perhaps the most widely read author of Christian spirituality of the later part of the 20th century, offers a unique perspective into developing an embodied spirituality that is capable of responding to today's divides with a powerfully peaceful heart. Originally from the Netherlands, he spent many years in North America, mostly as an academic teaching courses on spirituality. But it was his time in Latin America, and his exposure to the liberation theology of Gustavo Gutierrez, that transformed him most profoundly. His exposure to the political insecurity and economic disparity of the marginalized communities he encountered pushed his private contemplative experience into one that was rooted in an active and reflective faith. By following his example, this conference aims to offer the world fresh resources by which we can "dip deeply into the well of our own lives" to discern the ongoing liberating movements of God.
Location:
Joan B. Kroc Institute for Peace and Justice
University of San Diego
5998 Alcala Park, San Diego, CA 92110
***
San Rafael Catholic Church
Lenten Fish Fry Dinners
Every Friday in the Parish Hall from February 16th to March 23rd. 
The Dinners are from 5:00pm to 7:00pm
Kids Entertainment Available
(including balloon art and face painting)
Tickets will be sold in front of the Church at the end of all Masses the weekends of
February 3-4, 10-11, 17-18,
March 3-4 and March 10-11
Tickets will also be sold at the door.
Ticket prices:
Adults – $10 ($12 at the door)
Children (Ages 4 – 17) – $5 Family – $25 ($30 at the door)
"Golden Tickets" are the best deal in town for admission to all 6 Fish Fries:
Adult – $50
Family – $120
Location:
17252 Bernardo Center Dr.
San Diego, CA 92128
***
Community Church of Poway
2018 CONCERT SERIES
 Rhapsody Singers
Mixed Adult Group from Escondido
Light Popular and Show Tunes
From the 40's until present day
Saturday, February 17th 2018
4:00pm
Individual Tickets $5.00 each performance
Children under 7 free
Contact Dee Siltanen for more information 858-775-9171 jimdee162@cox.net
Location:
13501 Community Rd.
Poway, CA 92064
***
Franciscan School of Theology
Divine Harmony: 
Seeking Community in a Broken World
Mary Doak, PhD

Wednesday February 21, 
7:00 pm
FST Guadalupe Classroom
For a general Christian (and especially Catholic) audience, this talk explores the implications of belief in the dignity of each person as oriented to and fulfilled in community with others. More specifically…
What role can and should Christian faith play in healing our polarized nation?
Mary Doak, PhD, is Associate of Theology and Religious Studies at the University of San Diego, where she teaches courses in Christian theology. Dr. Doak's specializations include liberation and political theologies, theologies of democracy and religious freedom, the goal of human life and history from a Christian perspective, and theologies of the church. Her research focus has been on the political and practical implications of Christian faith, especially in the contemporary context of the United States. Her current research project explores the challenges to discipleship faced by the church in the 21st century. 
FREE AND OPEN TO THE PUBLIC
For more information, contact Donna Foley at 760-547-1800 Ext, 224 ir dfiket@fst.edu 
Location:
Franciscan School of Theology Mission San Luis Rey Retreat Center, 
4050 Mission Ave. Oceanside 92057. 
Pax Christi USA and Hands of Peace
The SULTAN and the SAINT
HOPEducation & Pax Christi San Diego Screening
Wednesday, February 21st
6:30-8:30pm
Screening will begin promptly at 6:45
A short discussion and light refreshments will follow the film.
Please join us for a community screening of The Sultan and the Saint. A true story of Muslim and Christina peace making. An acclaimed film that has received over 19 awards an been feature on PBS. The story follows two men of faith, one a traveling Christian preacher and the other the ruler of a Muslim Empire. It tells how they mucked a century of war, distrust and insidious propaganda in search for mutual respect and common ground.It is the story of Francis of Assisi and the Sultan of Egypt and their meeting on a bloody battlefield during the period of Christina-Muslim conflict know as the Crusades.
Please RSVP to Sarh Heirendt at sheirendt@handsofpeace.org
christybohan@cox.net    Call Christy at 760-652-4035
Location:
St. James Catholic Church Parish Hall
625 S. Nardo Ave.
Solana Beach, CA 92075
California Western School of Law
An Evening with Sr. Helen Prejean
& Uriah Courtney
February 27
Reception at 5:30pm with
Free Hors d'oeuvres
6:30-8pm Presentations
Concluding   Q&A and book signing 8-8:30pm
You are invited to an intimate evening with Sr. Helen Prejean and Uriah Courtneyexamining the death penalty, hosted by Justin Brooks, Director of the
California Innocence Project.
Sister Helen Prejean has been counseling death row prisoners since the early 1980s.
She is the author of Dead Man Walking: An Eyewitness Account of the Death Penalty in the United States and Death of Innocents: An Eyewitness Account of Wrongful Executions. 
Uriah Courtney spent eight years in prison for a crime he did not commit: a sexual assault that occurred in Lemon Grove. Five years after his arrest, the California Innocence Project began investigating his case. Three years later, the CIP received DNA results confirming Courtney's innocence. He has been free since May 2013.
This free event is open to the public, but registration is required. Go to:
http://socialministrysandiego.com/srhelen/
Location:
***
MARCH
Kids4Community, Bright Futures 5/K
Bright Futures 5/K and 1/K Run
You're invited to join us!
Kids 1/K Run (under the age of 8) will begin at 8:45am
This family-friendly event benefits Interfaith and will help us continue to feed our local homeless population, provide shelter, self-sufficiency and employment programs to those in need of a hand up, as well as access to transitional and permanent housing options. 
$25 – 14 years and under
$35 General
TO REGISTER FOR THIS EVENT, PLEASE VISIT THE OFFICIAL WEBSITE AT
https://kids4.org/5k/
Come out for a 5K fun run/walk at Embarcadero South Park to enjoy a waterfront course and Downtown San Diego excitement. This family-friendly event will benefit local homeless shelters via Interfaith Community Services. Your participation and fundraising 
will enable Kids 4 Community and Interfaith Community Services to: feed the homeless, provide shelter, provide mentoring opportunities for high risk youth, self sufficiency and employment programs, temporary and permanent housing programs. Did you know that the Bright Futures 5K is the only MAJOR peer-to-peer fundraiser for the ICS Center! Bring your friends and family to make a bigger diffe
rence, as all proceeds will be donated to our local homeless neighbors.
Hosted by local nonprofit, Kids4Community, the Bright Futures 5K will help our low-income and homeless neighbors in San Diego. Proceeds from the event will benefit Interfaith Community Services.
Can't make the event, but still want to support Interfaith Community Services? 
Donate today to make a difference!
https://app.etapestry.com/hosted/
InterfaithCommunityServices/OnlineDonation.htm
Location:
Embarcadero Marina Park South 
***
APRIL
Community Church of Poway
Martin Luther King Jr. Community Choir,
San Diego
Saturday, April 29th 2018
4:00pm
Individual Tickets $5.00 each performance
Children under 7 free
Contact Dee Siltanen for more information 858-775-9171 jimdee162@cox.net
Location:
13501 Community Rd.
Poway, CA 92064